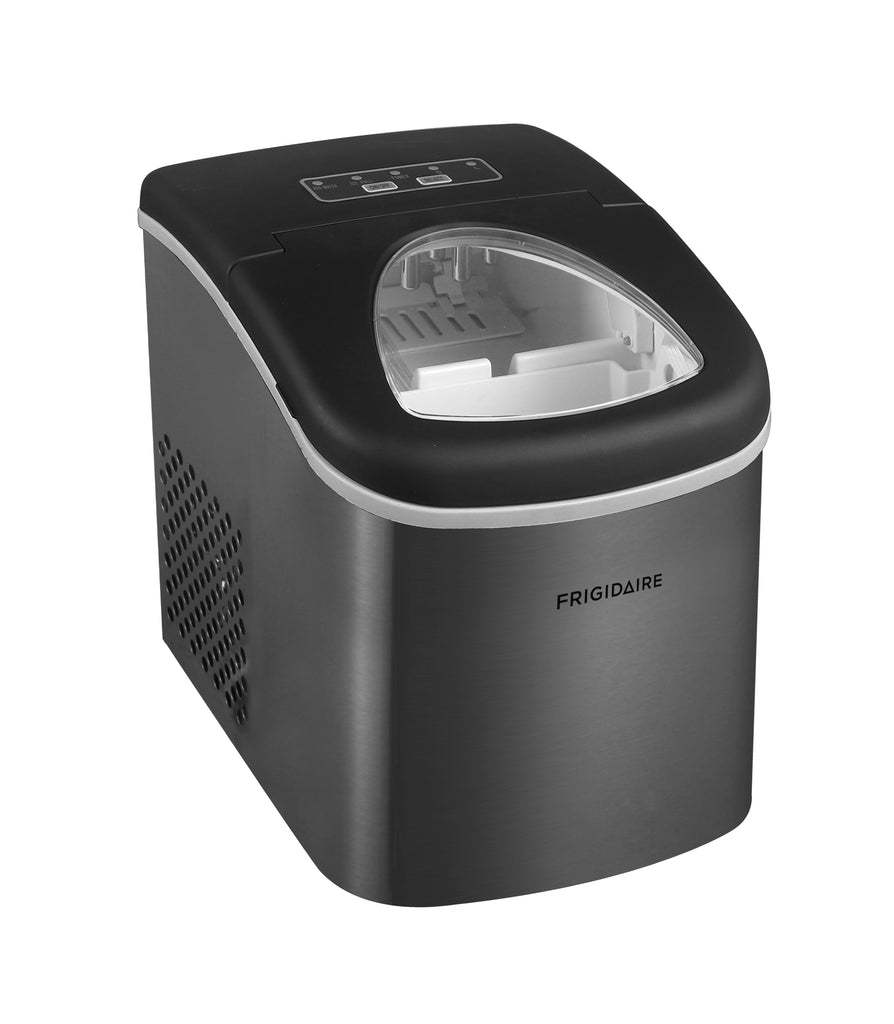 HIGH ICE CAPACITY: GENERATES UP TO 26 LBS (12 KG) OF ICE PER DAY AT 25℃ AIR TEMPERATURE.

EFFICIENT PERFORMANCE: RATED CURRENT OF 1.7 A ENSURES ENERGY-EFFICIENT OPERATION.

SPACIOUS WATER TANK: FEATURES A LARGE 1.2 L WATER TANK FOR EXTENDED USE WITHOUT FREQUENT REFILLS.

CONVENIENT ICE BASKET: AMPLE 0.6 KG ICE BASKET CAPACITY HOLDS A SUBSTANTIAL AMOUNT OF ICE FOR IMMEDIATE USE.

FAST CYCLE TIME: PRODUCES A NEW BATCH OF ICE CUBES IN JUST 6-13 MINUTES, MINIMIZING WAIT TIME.

BULLET-SHAPED ICE CUBES: DELIVERS BULLET-SHAPED ICE CUBES THAT COOL BEVERAGES QUICKLY AND EFFICIENTLY.

OPTIMAL ICE CUBE WEIGHT: EACH ICE CUBE WEIGHS 7-9G, PROVIDING THE IDEAL SIZE FOR VARIOUS DRINKS.

EASY WATER SUPPLY: MANUAL WATER SUPPLY OPTION ALLOWS FOR SIMPLE AND CONVENIENT REFILLING.

SIMPLE CLEANING PROCESS: MANUAL CLEAN METHOD ENSURES HASSLE-FREE MAINTENANCE AND HYGIENE.

USER-FRIENDLY DESIGN: FLIP DOOR DESIGN ALLOWS EASY ACCESS TO ICE, ENHANCING CONVENIENCE DURING USE.

EFFECTIVE INSULATION: FOAMING INSULATION HELPS MAINTAIN ICE TEMPERATURE AND PREVENTS MELTING.

DURABLE STAINLESS STEEL CONSTRUCTION: STURDY STAINLESS STEEL CABINET OFFERS LONGEVITY AND A SLEEK APPEARANCE.

EFFICIENT REFRIGERANT SYSTEM: UTILIZES R600A/20G REFRIGERANT WITH A 2-LAYER CONDENSER FOR RELIABLE COOLING.

AIR COOLED CONDENSER: COOLING MODE OPTIMIZES EFFICIENCY BY UTILIZING AIR FOR CONDENSATION.

QUALITY EVAPORATOR STRUCTURE: COPPER EVAPORATOR MATERIAL WITH NICKEL-PLATED SURFACE TREATMENT ENSURES DURABILITY AND EFFICIENT ICE PRODUCTION.

ENHANCED CONTROL: FEATURES AN LED DISPLAY FOR INTUITIVE OPERATION AND STATUS MONITORING.

AUTO CLEAR FUNCTION: ENABLES EFFORTLESS ICE REMOVAL FOR A CONTINUOUS SUPPLY OF FRESH ICE.

CONVENIENT INDICATORS: WATER SHORTAGE AND ICE FULL INDICATORS PROVIDE TIMELY ALERTS FOR REFILLING OR EMPTYING THE ICE MAKER.