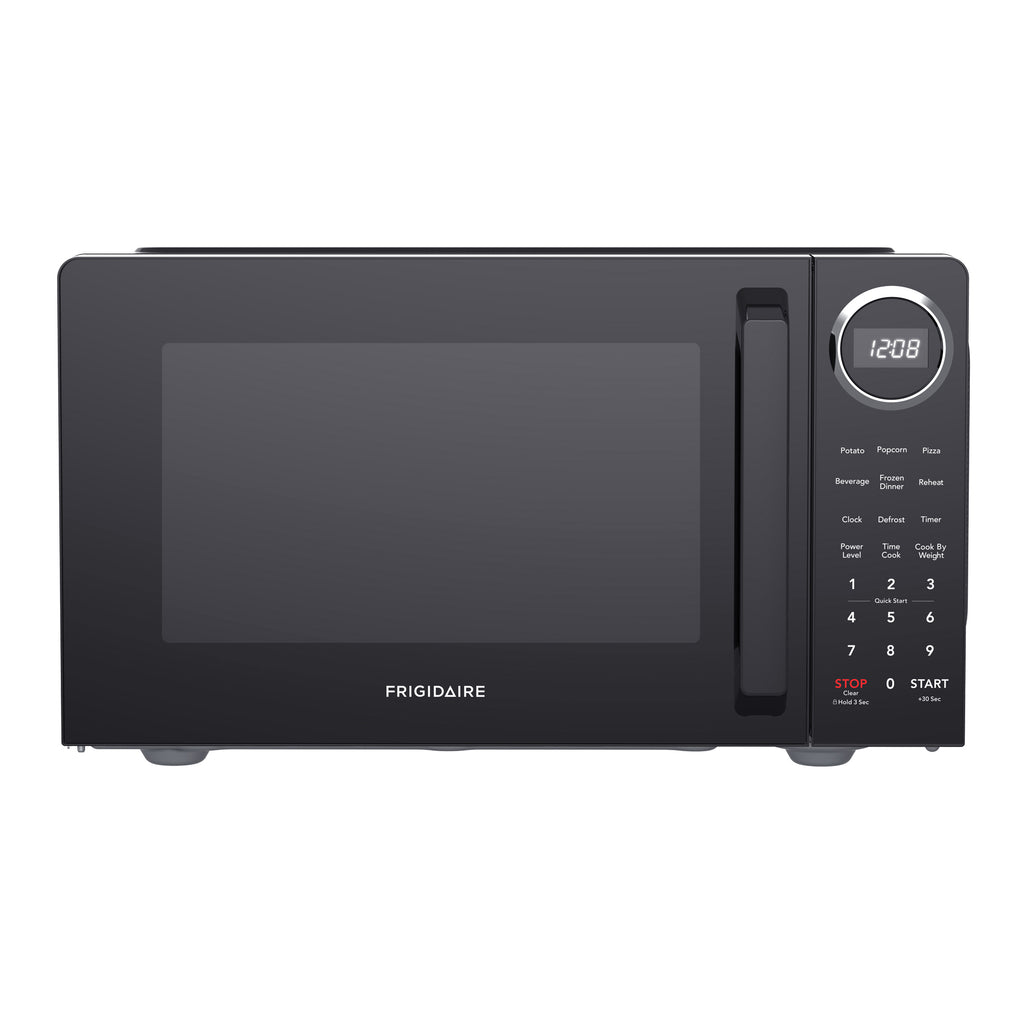 Upgrade your kitchen with the FRIGIDAIRE™ 0.9 cu. ft. Microwave and enjoy convenient cooking solutions at your fingertips. With its spacious capacity, accommodating a wide range of dish sizes is a breeze, making it perfect for various meals.

Experience powerful cooking performance with 900 watts of power, ensuring effective and efficient cooking results for a variety of foods. Take the guesswork out of meal preparation with the six auto cook menus, providing fast and easy cooking options for your favorite dishes.
The auto defrost settings for meat, poultry, and fish offer quick and convenient thawing solutions, saving you time and effort. Enjoy the convenience of pre-programmed options for popcorn, frozen pizza, and frozen meals, simplifying the cooking process and ensuring consistent results.
With 10 power levels, you have precise control over your cooking, allowing you to customize the settings to suit your preferences. The child safety lock feature provides peace of mind by preventing accidental operation, ensuring a safe environment for your little ones.
Add a touch of style to your kitchen with the sleek chrome accent dial around display, elevating the aesthetics of your space. The 9-inch diameter glass turntable rotates to ensure even cooking and is easily removable for effortless cleaning.
Keep track of cooking time and rely on the timer and clock functions for added convenience and precision. Elevate your cooking experience with the FRIGIDAIRE™ 0.9 cu. ft. Microwave and enjoy the versatility and performance it brings to your culinary endeavors.
Spacious 0.9 cu. ft. capacity accommodates a wide range of dish sizes, allowing you to cook various meals with ease

900 watts of power ensure effective cooking, delivering consistent and efficient results for a variety of foods
Six auto cook menus provide fast and easy cooking options, taking the guesswork out of meal preparation
Auto defrost settings for meat, poultry, and fish offer quick and convenient thawing solutions
Pre-programmed options for popcorn, frozen pizza, and frozen meals save time and simplify the cooking process
10 power levels allow for precise control and efficient cooking performance
Child safety lock feature helps prevent accidental operation and ensures the microwave is safe to use around children
Sleek chrome accent dial around display adds a stylish touch to your kitchen decor
9 in. diameter glass turntable rotates to ensure even cooking and is removable for easy cleaning
Timer and clock functions offer added convenience, allowing you to keep track of cooking time and use the microwave as a reliable kitchen tool