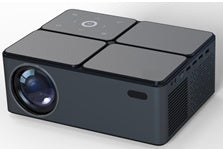 RCA HOME THEATER PROJECTOR HAS 3 X HDMI,1 X USB AND AV INPUT PORTS
NATIVE RESOLUTION: 1980*1080
DELIVERS VERY SHARP AND LIFELIKE IMAGES WITH TRUE-TO-LIFE COLORS
NATIVE RESOLUTION FULL HD 1080P (1920X1080)
STREAMING DEVICE READY – CONNECT YOUR ROKU, APPLE TV, ANDROID OR FIRESTICK, ETC. TO ONE OF THE DEVICES
3 HDMI PORTS AND USB CHARGING PORTS
ASPECT RATIO16:9 WIDESCREEN
IMAGE SIZE: PROJECT IMAGES FROM 32"-250" ON VIRTUALLY ANY FLAT-SURFACE,WALL, CEILING, SIDE OF HOUSE, ETC.
(36" TO 200" – OPTIMAL PICTURE SIZE ).
PROJECTION DISTANCE UP TO 1-7M
BIG SOUND: 5W(4OHM)X2
INPUTS: AVX1 / USB 2.0X2 / HDMIX3
SUPPORTS 1080P (AS WELL AS 1080I, 720P, 576I, 480P AND 480I) VIA HDMI INPUT.
EQUIPPED WITH HDMI CONNECTION FOR CONNECTING DEVICES SUCH AS CABLE BOXES, GAMING CONSOLES, BLU-RAY , PLAYERS OR STREAMING DEVICES LIKE MOBILE PHONES, TABLETS, ROKU, APPLE TV, CHROMECAST, ETC…
50,000 HOUR ESTIMATED LED PROJECTOR LAMP LIFE- THAT IS 22.8 YEARS VIEWING 6 HOURS A DAY OR 5.7 YEARS VIEWING 24 HOURS A DAY!!
OUTPUT: AUDIO OUTX1
BRIGHTNESS WHITE LIGHT OUTPUT ANSI :450 LM
WHITE BRIGHTNESS OUTPUT ANSI: 395 LM
DIMENSIONS: 9.92X8.07X4.05 INCH
ACCESSORIES: AC POWER ADAPTOR, REMOTE CONTROL